It only takes a quick glance at the Karcher K7 to realise you're dealing with a serious bit of kit. The K7 is a heavy duty pressure washer aimed at tackling the toughest and dirtiest jobs.
At the time of writing, this is Karcher's range topping model, their flagship pressure washer. Let's jump in and find out how it fares.
Key Facts
The Karcher K7 Premium Full Control Plus home is equipped with a whopping 2800W Motor
Produces pressure between 20 and 180 bar
Has a waterflow rate of 550 litres per hour
Cleans an area of 60m2 per hour
Features Karcher's Full Control LCD display system
Requires zero assembly – it's ready to use straight out of the box
What's in the box?
1 x Karcher K7 Premium Full Control Plus Home Pressure Washer
1 x Full Control High Pressure Gun
1 x 3 in 1 Multi-jet lance
1 x 10m High Pressure Hose
1 x T450 Patio Cleaner
1 x Bottle of Patio and Deck Detergant
The K7 Premium comes with a good range of included accessories. We are a big fan of the full control LED system, it offers a really easy way of changing up your cleaning power needs.
Performance
Let's summarise this really quickly if you're in a rush, the K7 Premium Full Control Home Plus is an absolute monster of a machine and will tackle the toughest and heaviest of jobs.
It features a gigantic 1800W motor and produces a peak 180 bar of pressure, all whilst delivering a flow rate of 550 litres per hour. Impressive stuff.
Cleaning a heavily soiled vehicle is child's play for this thing. It'll remove the most stubborn of stains with ease with plenty room for more. It's a great addition to your arsenal of tools and even removes weeds in between flags on the patio area, all without damaging the grout. It also makes light work of removing algae and grime.
Design and Features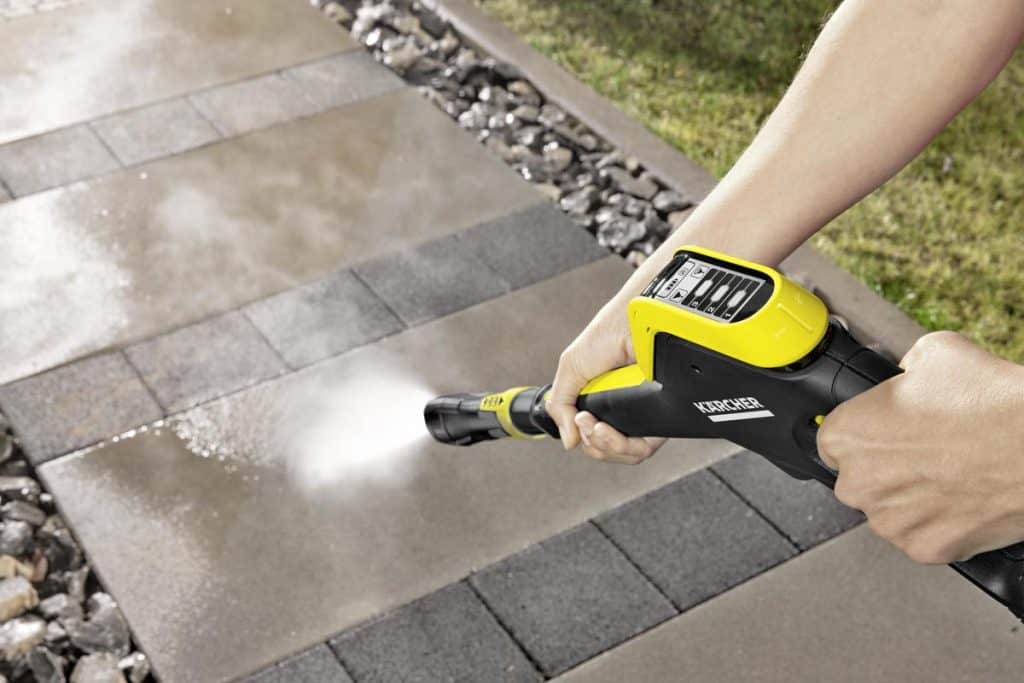 As with all Karcher products, it's a gorgeous looking machine. Karcher have won design awards year on year for their products and it's easy to see why.
The K7 Premium Full Control Plus Home is a heavy machine weighing in at 25KG. That can make maneuvering it around the garden a particularly difficult task. One caveat to bare in mind with that is it may not be necceasry to move it around all that often due to the inclusion of a 10m hose and long power cord.
The aforementioned hose features a built in hose reel which makes packing it away a doddle, a nice change to fighting with those hoses at the end of your cleaning session.
The K7 also features a clever on board storage system for all your accessories and tools making it easy to easily access and change your accessories/tools.
Accessories
We were impressed with the included accessories and tools. If you wish to purchase additional accessories there are ofcourse a multitude available directly from Karcher or third parties.
3 in 1 Multi-jet Lance and LED control Gun
The 3 in 1 Multi-jet lance is Karcher's latest innovation and can be adjusted between vario lance, dirt blaster and detergant settings. All of these settings are controlled the impressive LED display control trigger gun, making it a breeze to switch between modes.
The LED display aids alternating between cleaning modes as you may need to tailor the amount of power each time. For example, you wouldn't want to unleash full power when rinsing off your mountain bike, you'd opt for a lower power settings. The LED display shows clear and concise symbols which make it easy to understand which mode you're using.
T450 Patio Cleaner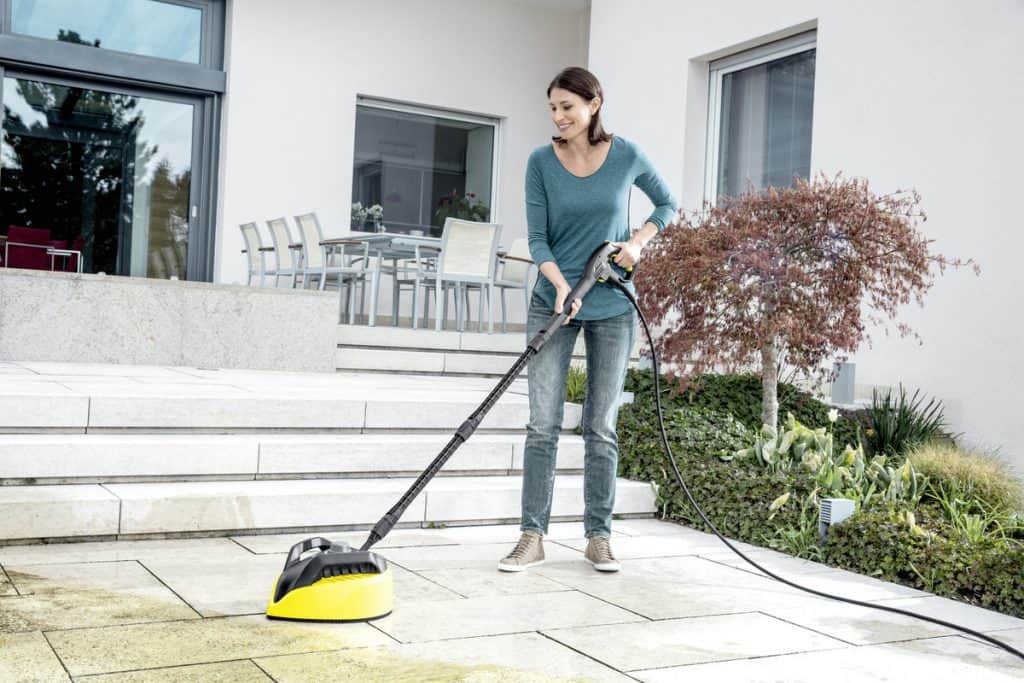 The T450 patio cleaner is a really useful tool for when working in large areas. Karcher claim that the T450 can clean large areas up to five times faster than working with a traditional lance.
The T450 features a twin-jet rotating arm which helps aim directly at where you want it, all whilst reducing spray and mess. We all know that pressure washing large outdoor areas can be a particularly messy task, the T450 removes that completely and traps any dirt and spray safely inside it.
The T450 also features an adjustable pressure control to allow for full power cleaning of hard surfaces such as stones and rocks, but less aggressive cleaning of decked areas etc. We were impressed with this.
Guarantee
Because this is a premium model, the K7 Premium Full Control Plus home comes with a 5 year manufacturer from Karcher. Entry level compact models come with a shorter guarantee period.
5 years is a really impressive warranty period and provides real peace of mind when making your purchase. Pressure washers take a bit of a beating so it's always a real bonus having the safety net of a comprehensive guarantee.
Pros and Cons
We think the K7 Premium Full Control Plus home is a seriously impressive bit of kit. Yes it does come at a premium price but it's backed a compreshensive guarantee from a real powerhouse of pressure washer manfucturing.
Pros
Powerful cleaning ability
Huge 2800w motor
Multi-jet lance system allow for quick and easy changing of cleaning power
Impressive 5 year guarantee
Cons
At 25Kg, it's a heavy and bulky machine.
Transporting it around is difficult
Requires a lot of water due to extremely high flow rate
Summary
If you're looking for an extremely powerful, heavy duty pressure washer, you will not go wrong with the K7 Premium Full Control Plus home. It's made arguably the best in the business, and it's the best that they offer.
You'll need to ask yourself two questions when considering the K7 Premium Full Control Plus home –
Can I afford it?
At this price point, it's certainly not classed as budget, it's very much at the higher end of the scale. If you're budget can stretch to it, you'll be purchasing a hugely powerful pressure washer backed with a comprehensive guarantee.
2. Do I need all that power?
A really important one this. Do you really need 180 bar of pressure and 550 litres of waterflow per hour? If you're planning on purchasing a pressure washer to be used for cleaning a small to medium car once a week, you may be best considering a cheaper, less powerful alternative. With that in mind, you may want to read our review on the cheaper, smaller Karcher K4 Full Control Home Review or our Nilfisk C110 review
Just so you know, we may earn a small commission through the links on this page but we think that's a fair trade off for the hours research and time that we put in.