Whilst you may never heard of Nilfisk before, you may be surprised to learn they've been building pressure washers since the mid 80's and lay their hands to the aclaim of launching the first ever domestic pressure washer in 1985.
The Danish company pride themselves on making machines that are easy to use, realiable and built using high quality components. For example, all Nilfisk pressure washers use an aluminium made pump which traditionally speaking should outlast most.
On-board storage is a biggie for Nilfisk too. They are a firm believer in having all of your accessories in one place on the machine, we agree that it certainly makes things easier when working with the machine.
Key Facts
The Nilfisk C110 – 110.7-5 PC X-TRA is equipped with a 1400W motor
Produces pressure between 20 and 110 bar
Has a waterflow rate of 440 litres per hour
Cleans 25m2 areas per hour
Included in the package is a 5m pressure hose along with multiple nozzles
What's in the box?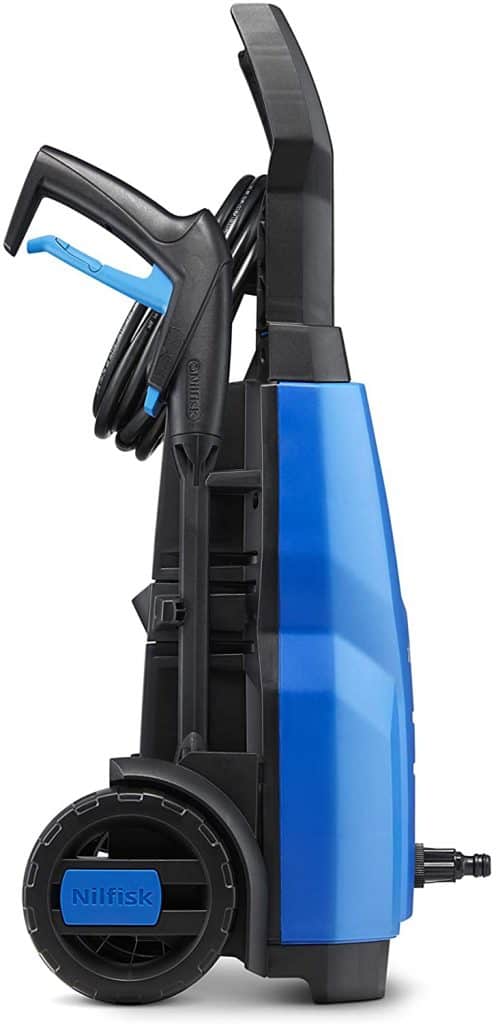 – 1 x Nilfisk C110.7-5 Xtra
– 1 x high pressure hose
– 1 x Tornado nozzle
– 1 x Powerspeed nozzle
– 1 x high pressure gun and lance
– 1 x Detergent sprayer
– 1 x Patio cleaner
The inclusion of multiple nozzle choices is a nice touch and comes in handy for varied work. The powerspeed nozzle provides full power, high impact cleaning ability which is great for heavily soiled patio and garden areas etc.
Performance
The Nilfisk C110 – 110.7-5 PC X-TRA features up to 110 bar of pressure from its 1400w motor which is plenty powerful enough for cleaning cars, motorbikes, outdoor areas etc.
A real strong plus point for the Nilfisk C110 – 110.7-5 PC X-TRA is it's use of premium materials. The pump is made entirely of aluminium which will outperform and outlast its inferior, plastic counterparts. It's really refreshing to see a machine made of such premium materials at this price point.
Nilfisk have also included a filter system which is there to protect the machine and filter out those nasty minerals from rain water (If using a water butt) or if you live in a hard water area. Again, another nice touch.
Design and Features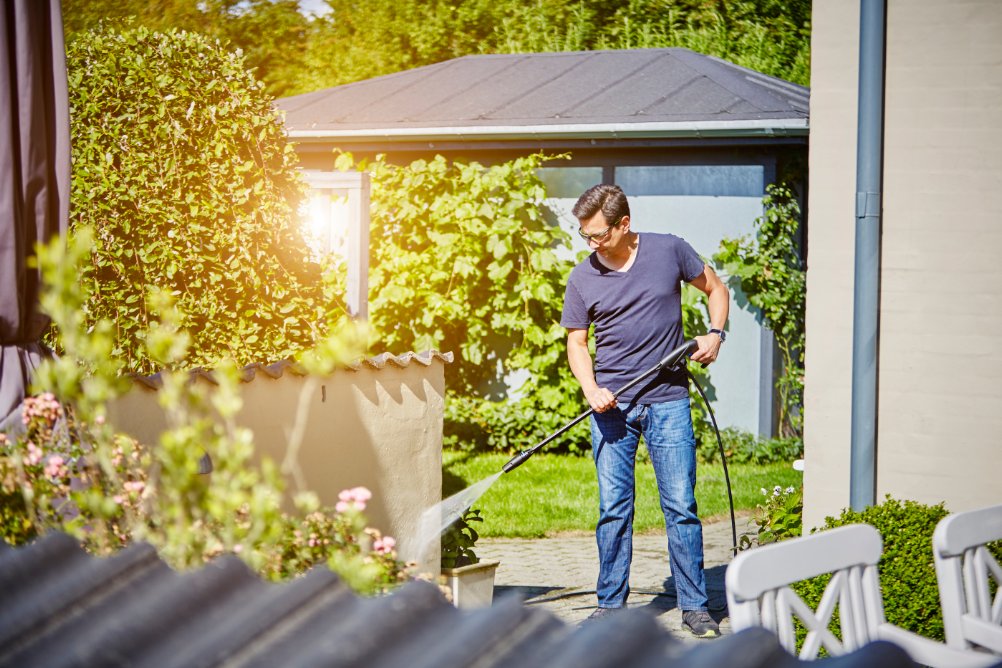 We love the design of the Nilfisk C110 – 110.7-5 PC X-TRA. It's a lightweight, compact, highly manoeuvarable pressure washer capable of tackling most needs. If you're hoping to tackle really large, extremely soiled areas, you may need to step up to a more powerful model. However, for light cleaning tasks, the C110 – 110.7-5 PC X-TRA is a great choice.
It sports a light, compact and easy to handle construction which makes working with it a doddle.
This model also features Nilfisk's auto start/stop feature, a nice addition.
The C110 – 110.7-5 PC X-TRA sports Nilfisk's Click&Clean connectivity system which makes it remarkably easy to remove and attach accessories and lances etc.
Accessories
The included accessories with the C110 – 110.7-5 PC X-TRA are an impressive, strong point of the model. Ofcourse, if you wish to customise it further and add more there are a range of available add on items but we feel that the included accessories are more than adequate for most people need.
Extension Lance
The extension lance sports an impressive 360 degree movement which will aid reaching those difficult areas.
Patio Cleaner
The included patio cleaner is similar to the Karcher T350 patio cleaner. It allows for cleaning over a larger area in a much more controlled, mess free way. For example, when using the traditional lances to clean a patio area, it can become a bit messy with overspray and mud flicking on to the surrounding areas.
Using the inlcuded patio cleaner provides a vacuum like experience and reduces the spray going here there and everywhere. If you are working on a particular muddy area, it's a good idea to periodically check the underside of the patio cleaner as it can sometimes become clogged up.
5 Metre Hose
The C110 – 110.7-5 PC X-TRA comes with a 5 metre hose included as standard. This is impressive as similarly priced alternatives often come with a much shorter hose. This is particularly useful when working in larger areas and saves having to keep picking up the pressure washer and moving it around with you.
If you need more than then included 5 metres, you can always purchase an extension hose but do bear in mind that the more you extend your hose, you will start to lose water pressure.
Foam Sprayer
The foam sprayer included with the C110 – 110.7-5 PC X-TRA is a really nice inclusion. This can be used to aid washing a car, motorbike, patio area etc.
Have you read our comprehensive guide on how often you should wash your car which includes information about using foam sprayers to transofrm this process?
The foam sprayer included isn't going to win any awards for being the best in its class, however it's a great starter and can help massively with those cleaning tasks.
Pros and Cons
We think the C110 – 110.7-5 PC X-TRA is a really impressive pressure washer for basic, light cleaning duties.
Pros
Aluminium pump
Great range of included accessories
Auto start / stop technology
110 bar of pressure
Water filter
Click&Clean techmology is impressive
Cons
A more powerful motor would be desirable if required
Relatively short power cable
Summary
If you're looking for a reliable and well constructed, compact pressure washer, the C110 – 110.7-5 PC X-TRA will not dissapoint.
It's marginally more expensive than comparable rival products, however you do get more included accessories and the C110 – 110.7-5 PC X-TRA is backed a 2 year guarantee Nilfisk. This provides great peace of mind as nature, pressure washers take a lot of stick. They are often exposed to all the elements when in use, the 2 year guarantee from a reputable company like Nilfisk is a big plus point.
CHECK LATEST PRICE ON AMAZON →
Just so you know, we may earn a small commission through the links on this page but we think that's a fair trade off for the hours of research and time that we put in.