Ok so, I had one of those moments. One of those moments which I'm sure everybody has, you know, the one where you sit there and suddenly yearn for a V8? Everybody has those moments, right?
I have had a few V8's in the past and quite simply nothing else ever comes close in terms of creating that sense of theatre when cruising down the road. As I mentioned in one of my previous blog posts, I absolutely adored my BMW M2 and in many ways it can't really be compared to the S5 that I've just purchased. It's a completely different animal and just feels different in every way. The M2 is a turbo charged 3.0 straight six engine and because it's turbo charged, you get that instant shove in the back when planting your right foot. The M2 makes a great noise too. The S5 however is completely different.
With it being a naturally aspirated V8, there's no turbo charger so you don't get the same shove in the back and instant boost. What you do get however is an exhaust note to die for. It sounds absolutely gorgeous and resembles an American muscle car when you really plant your right foot down into the carpet.
I must say, even though it's an NA without a turbo, the acceleration is really impressive. It's clearly not as quick as my M2 but once the S5 get's going it just feels like a power monster. When travelling on the motorway at 60mph in 6th gear, a slight press on the accelerator pedal provides instant power and before you know it you're extremely close to license losing speeds.
It's the noise and the power delivery that make this engine so special. The noise is not really something I can describe in a blog post, and videos online just don't do it justice. It's just a beautiful note, and just gets better and better the more you push it. When you really put your foot down, as the car gets around 4000RPM, it sounds like an American muscle car with that metallic like rasp coming from the quad exhaust pipes.
In terms of spec, it's pretty much bog standard. It's got red supersport seats, they are extremely comfy and a real pleasure to sit it. I am a big fan of the red interior, I think it just makes the interior feel that little bit more special. Exterior colour is Meteor Grey and I have to say it's a stunning colour. I'm planning on detailing with a 2 stage paint correction and refinement in the coming weeks, I'm really excited about doing that as I think it'll look stunning once done. Disappointingly, it doesn't have cruise control. I'm a big fan of cruise control and use it often, I may look at retrofitting it in the coming weeks / months.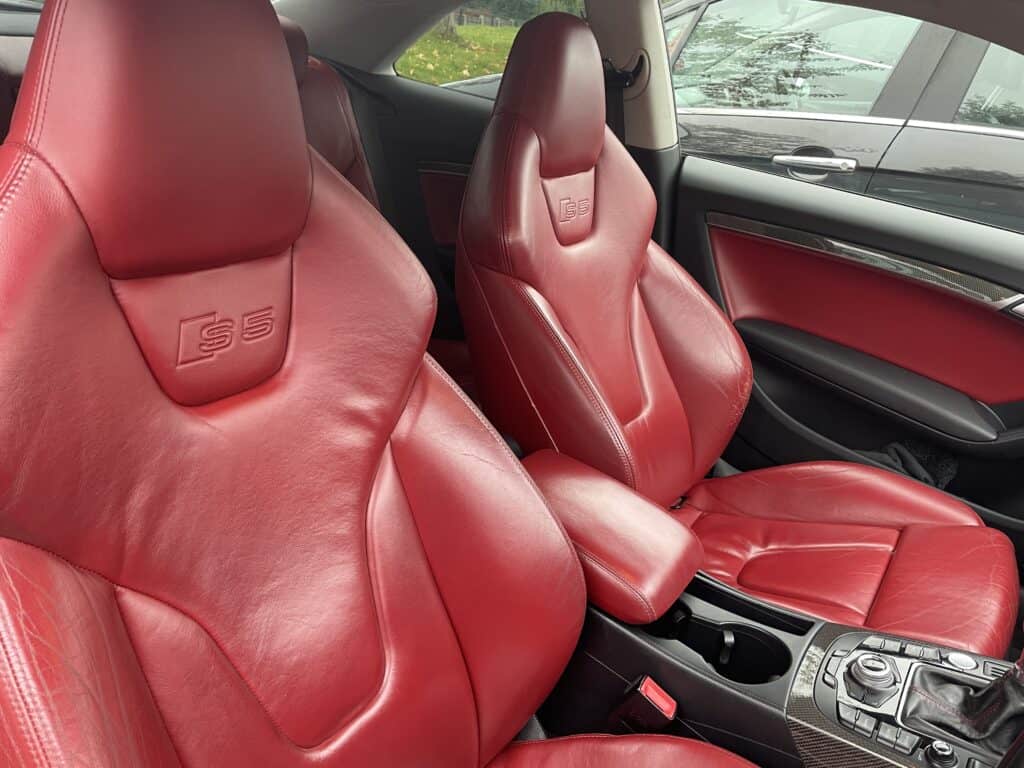 Interior trim is carbon fibre which looks stunning in my opinion. I'm not normally a huge fan of carbon fibre but I think it works great on the S5 and has a really nice glossy appearance.
Externally it's had a few small modifications which I think work quite well in the main. It's got a Maxton Design front splitter which looks superb and also boot spoiler / wing. Alloys have been refurbished at some point in gloss black and work well with the Meteor Grey paint.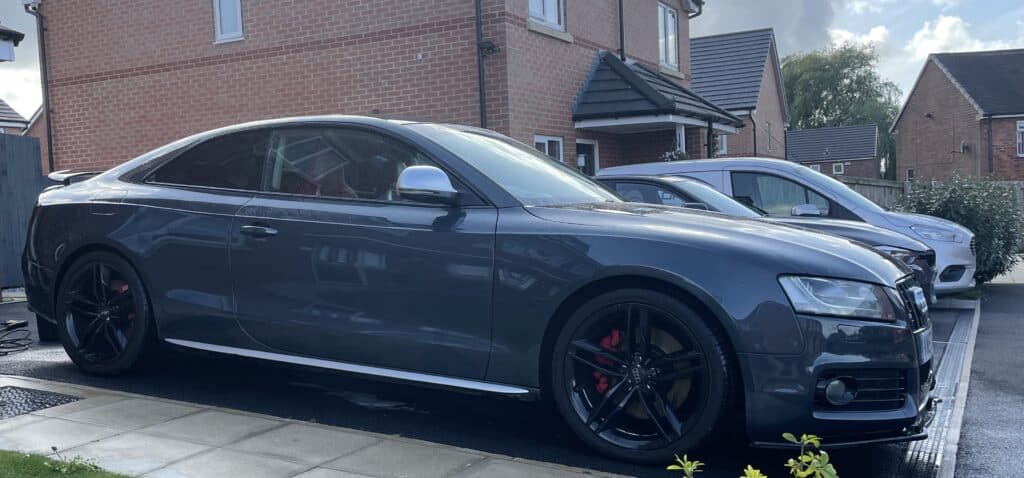 I've got a lot planned over the coming months so I'll keep the blog updated with my work. I'll be carrying out a full service, a full paint correction and various other bits and bobs.
I'm off for a drive round the block to enjoy the V8 soundtrack!