Living in the UK is intrinsically assosciated with wet and otherwise bleak weather conditions. With that comes a requirement for occasional outdoor cleaning, that's where the Karcher K4 full control home comes in.
Karcher are the indsutry leaders when it comes to pressure washers and rarely deliver a product that fails to meet their high standards, the K4 is no exception.
The K4 is a middle ranger in Karcher's exhaustive pressure washer lineup but delivers exceptional results. The K4 delivers 130 bar of pressure with a waterflow rate of 420 litres per hour, the K2 full control home comparison delivers 110 bar of pressure with a flow rate of 360 litres per hour.
To put this in perspective, Karcher's top range model K7 full control home delivers 180 bar of pressure. If you're intetested in this, you can check out our extensive review below
Karcher K7 Full Control Home Review
Key Facts
The K4 is equipped with an 1800W motor
Produces pressure between 20 and 130 bar
Has a waterflow of 420 litres per hour
Cleans 30m2 areas per hour
Included in the box is a 6m hose
Sports a full control power gun with LED display
Three year manufacturer warranty
What's In The Box?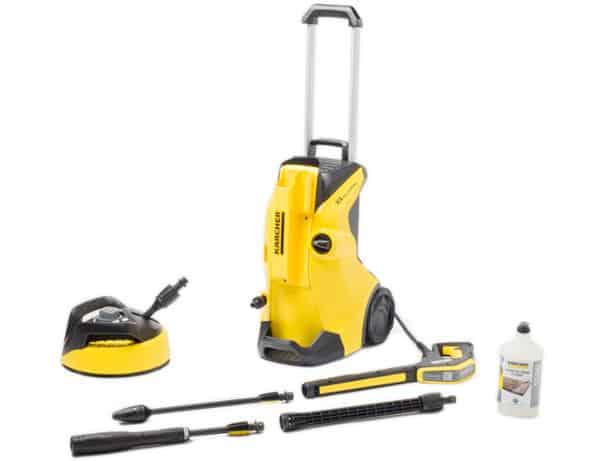 Karcher K4 Full Control Pressure Washer
1 x Dirt Blaster Lance
1 x Vario Lance
1 x T350 Patio Cleaner
2 x AAA Batteries (To power the LED screen on the handle)
1 Bottle of Stone and Facade Cleaner
The inclusion of the stone and facade cleaner is a nice touch and addition. The cleaner preforms really well on patio and stone areas with it's strong formula and simple to follow instructions.
Performance
The Karcher K4 full control home features up to 130 bar of pressure from it's 1800W water cooled motor. Tackling heavily soiled vehicles and large patio areas is a breeze with it's high flow rate of 420 litres per hour. It delivers absolutely stunning results when cleaning patio areas. Due to it's large motor and 130 bar of pressure, it's able to blast away years worth of dirt and algae. The contrast before and after really is remarkable.
On the particular task of patio cleaning, the included accessories make it an absolute breeze. The include bottle of stone and facade cleaner provide an extra level of bite that's always welcome and whilst it isn't strictly neccesary, it does make the task easier. The included T350 patio cleaner drastically reduces not only the amount of time required to complete the job, but also the amount of mess and spray created. Cleaning patio's can be an extremely messy process and often you'll end up spending a lot of time cleaning off the overspray on walls, garage doors etc. This is completley eradicated when using the impressive T350 patio cleaner.
Design and Features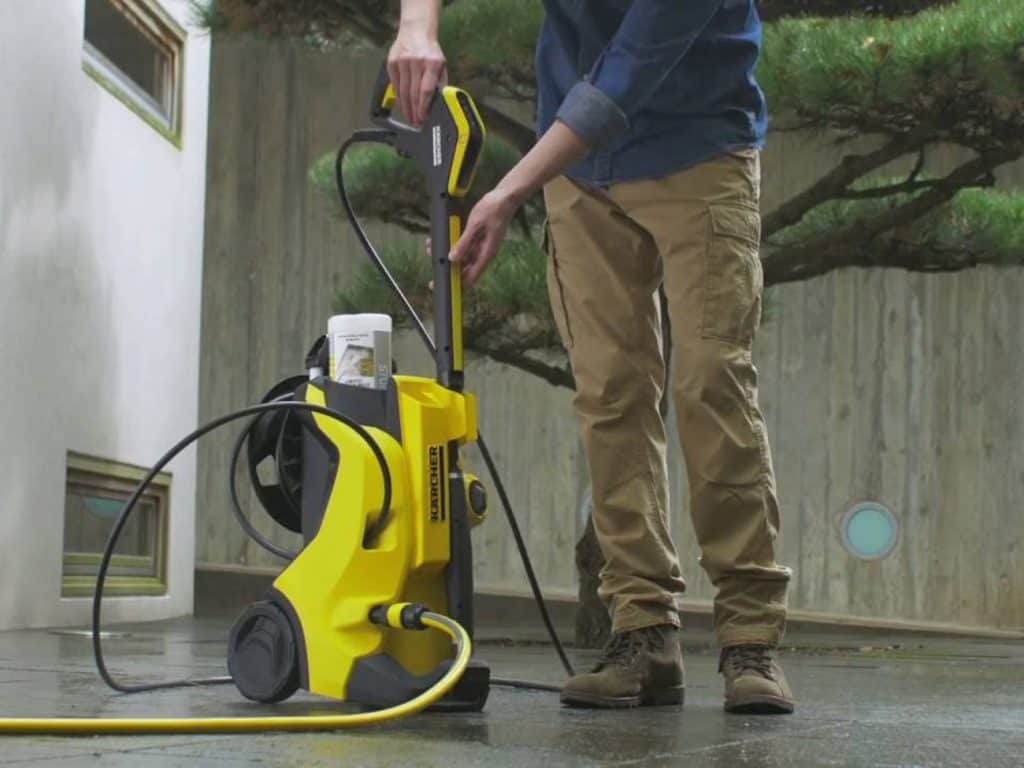 Karcher have year on year won design awards for their products, the K4 full control home doesn't dissapoint in this regard. With it's striking and bold yellow appearance, it's impressive LED display, this pressure washer is sure to impress your neighbours.
The LED display is arguably one of the main selling features of the K4 full control home. It's simple to operate and easy to understand. A twist of the vario power spray lance will increase or reduce the power accordingly, all aided that lovely LED display. This is a really nice feature as you may want full cleaner power for those heavily soiled patio stones but may want to reduce the power for cleaning items such as cars, bikes etc. The cleaning modes are organised into three, simple categories – full power, medium power and soft power. Each mode is accompanied a clear symbol on the display to make it crystal clear which mode you're using.
The K4 full control home also features a height adjustable handle. Whilst this may not sound like a ground breaking feature, it allows you to comfortably cart the K4 around irrespective of your size.
Included in the package is a T350 surface cleaner which makes cleaning large areas a doddle and spray free. When compared to cleaning with a conventional lance, cleaning times are reduced about half due to the twin-jet rotation arm of the T350. When using the T350, you'll quickly discover the "hoverboard" effect which makes manoeuvring and cleaning easy. The T350 also features a pressure adjustment which allows for the use of it on slightly more sensitive areas.
Pros & Cons of the Karcher K4 Full Control Home
We love the K4 full control home and think it's an outstadnding all-rounder from the powerhouse German brand. It's a big step up from Karcher's entry level kit and delivers much more cleaning ability and also versatility. Here is a quick summary of the pros and cons;
Good points
Easy to assemble
Suitable for use on cars, patios, gardens
Superb LED display system which allows for easy switching of cleaning modes
Cleans large areas extremely quick
Quiet when in operation
3 year warranty from the manufacturer
Bad Points
Slightly heavy and bulky
The detergent slot only allows for the use of official Karcher products
Summary
With it's high flow and pressure rate, the K4 full control home makes light work of cleaning outdoor areas and cars. It has some fantastic features which seperate it from comparable pressure washers at a similar price point. Whilst the K4 may be slightly sparse on accessories, it more than makes up for that with it's power and cleaning ability.
Whilst the more expensive K7 model is more powerful, the K4 is highly likely to be more than powerful and versatile enough for most users.
Just so you know, we may earn a small commission through the links on this page but we think that's a fair trade off for the hours of research and time that we put in.