In this review, we look at the best DPF (Diesel Particulate Filter) cleaners on the market for your diesel vehicle and explain why they are so important. DPF filters are fitted as standard on all modern diesel vehicles and can cause extreme problems if not maintained properly, so therefore it's really important to understand how they work and how best to avoid problems with some simple preventative maintenance.
Update – October 2023 – We have updated our product recommendations in line with some excellent new products that have been released in the UK market.
Update – November 2022 – Interestingly, modern petrol or gasoline vehicles are now being fitted with DPF equivalent type filters. Gone are the days or buying a petrol vehicle to avoid frustrations with exhaust filter systems. Motoring product specialists such as Liqui Moly, Wynn's and Cataclean are now producing DPF like cleaning products for petrol and gasoline cars. It'll be interesting to observe whether PPF's prove to be as problematic as DPF's have been for modern Diesel engines.
Update – June 2021: It would appear that the global Coronavirus pandemic has created a huge surge in DPF problems for diesel car owners all around the world. We are seeing a huge increase in diesel cars suffering with DPF warning lights due to blocked DPF filters, EGR Vavle problems etc and that can be attributed to a huge change in driving styles and patterns for most drivers.
Modern diesel vehicles require regular journeys and not just that, they require journeys which allow the engine to get up to optimum temperature which then allows all of the emissions systems to work at their best. Unfortunately, short, infrequent journeys are a huge problem for modern diesels which are equipped with DPF filters as they don't allow the DPF and other emissions systems to work properly. The Coronavirus pandemic has resulted in most people working from home which has then culminated in their vehicles not being used anywhere near as much. When drivers are using their cars, they are generally being used for a weekly trip to the shops, school run etc.
Our advice would be to use a good quality DPF cleaner to keep the system clean and also to ensure your car is treated to a decent run out allowing the system to do what it needs to do. This is one of the reasons we have added to and enhanced our Best DPF Cleaner article as the needs has increased
What is a DPF?
A DPF is a diesel particulate filter, a filtration system which is designed to catch and store exhaust soot in order to reduce emissions from vehicles and prevent those harmful gasses entering the atmosphere.
DPF filters are fitted to all modern diesel vehicles and were introduced around 2009 to comply with Euro 5 exhaust emissions rules, some vehicles were fitted with them slightly prior to this.
Only Got 5 Minutes?
Are you struggling for time and would like a quick overview of the best DPF cleaners?
Our Top Pick Best DPF cleaners
1. Liqui Moly DPF Cleaner
Part of Liqui Moly's Pro Line of products, the German branded Liqui Moly DPF cleaner takes our top spot. Liqui Moly claim it'll dissolve hardened, dense and encrusted contaminants on the surface of diesel particulate filters ensuring optimum performance at all times. As well as restoring performance of the engine, crucially, it'll also improve fuel consumption significantly. Liqui Moly have built up an excellent reputation for producing exemplary car care products and this DPF cleaner is arguably one of their most impressive products yet. The key features of Liqui Moly Pro Line DPF cleaner are;
Lowers fuel consumption
Suitable for passenger and commercial vehicles
Reduces soot emissions
2. Cataclean 6160 DPF Cleaner
A close runner up, Cataclean 6160 DPF cleaner offers exceptional performance at a really impressive price point. Cataclean claim it'll reduce emissions but as much as 60%, a really impressive bit of kit. As well as protecting and cleaning the DPF, it'll also protect and maintain catalytic converter systems. The key features of Cataclean 6160 DPF cleaner are;
Reduces vehicle emissions
Cleans catalytic converters as well as DPF systems
Safe for all diesel and hybrid engines
Great price
3. Wynn's DPF Cleaner
Wynn's, the US based company, have developed an outstanding reputation over many years. They produce a whole host of engine performance additives and this DPF cleaner scores highly for value for money. Impressively, this DPF cleaner is also suitable for use in biodiesel vehicles all the way up to B30. The key features of Wynn's DPF cleaner are;
Suitable for professional use
Competitive price
En590 compatible
4. Wurth Diesel Particulate Filter Cleaner
Last but certainly not least is Wurth's Diesel Particulate Filter Cleaner. Wurth state that it simply loosens and removes carbon deposits in the particulate filter – exactly what it's intended to do. It's a non nonsense product from an extremely reputable brand. Included in the package is a flexible tube to aid installation and usage. The key features of Wurth Diesel Particulate Filter Cleaner are;
Loosens and removes carbon deposits
Supplied in 400ml tin
Great performance
Easy to use
Supplied with flexible tube
Why Are Vehicle Emissions Important?
Modern diesel engines currently produce less carbon dioxide levels than petrol engines, however they produce much higer NOx levels. High levels of NOx are dangerous to the environment and can cause respiratory problems for humans such as inflammation of the airways. It's for these reasons that systems such as DPF filters were introduced.
How Does A Diesel Particulate Filter Work?
A DPF system works sitting in between the vehicle engine and exhaust system. It's a small to medium sized filter which catches exhaust soot and then stores it in the filter instead of it being pumped out of the exhaust and into the atmosphere.
Prior to the conception of DPF filters, those harmful exhaust gasses were being pumped straight out into the atmosphere.
Because DPF filters have limited size and capacity, they can only store a limited amount of exhaust soot. Once the system has reached it's capacity threshold (usually around 80%), the vehicle will attempt to begin a process called "Regeneration"
What Is A DPF Regeneration?
A DPF regeneration, or regen for short, is the process of a vehicle cleaning and emptying the filter. Every single filter system will eventually reach a point where they require to be cleaned and emptied, DPF's are no different in this respect. It's when your DPF filter fills up and becomes blocked that problems begin. The DPF regeneration process was designed to try and counteract this issue with regular disposing of the soot. Whilst that sounds like a perfect scenario, it's very far from perfect and is dependant on a number of factors. A DPF generation will only occur if a number of factors are met, such as
Your vehicle engine and exhaust system have to be at a specific temperature in order for the regeneration to take place
If your vehicle doesn't meet the neccesary engine and exhaust temperature, a DPF regeneration cycle will never begin. This is the biggest contributing factor to DPF blockages and problems. Frequent short journeys around the town result in the car not being warm enough to perform a regen, the DPF filter becomes more and more blocked and eventually requires manual intervention.
Your car is using the correct grade of DPF compliant engine oil
If your diesel car is fitted with a DPF, it's imperative that you use DPF compliant engine oil. Using an oil that doesn't meet the required specifications for your engine can result in catostrophic failure.
A diesel car fitted with a DPF needs to use low SAPS oil which is specifically designed to be low in sulphated ash. Sulphated ash can cause the mesh filter inside the DPF to become blocked extremely quickly.
Ensure that the oil you choose for your car is a low SAPS oil, you can check this ensuring the oil meets the specifications for either C1, C2, C3 or C4.
There are no problems with the fuel or EGR valve system
If your car is suffering with a fuelling, or EGR valve system problem, it can prevent a DPF regeneration from taking place.
The EGR valve (Exhaust Gas Recirculation Valve), sits in the engine bay and exhaust gasses flow through it before moving on through the DPF filter. Because diesel fuel is quite oily in it's formulation, diesel cars often suffer from carbon build up in the engine. An EGR valve is a prime candidate for coking up with carbon and often results in reduced gas flow through the valve. Again, a common cause for EGR valve problems is frequent short journeys around town as opposed to motorway journeys.
You have sufficient fuel in the tank
If your car is low on fuel, it may refuse to begin a DPF regeneration. It's always good practice to ensure that the fuel tank in your car is sufficiently full. Aside from causing problems with the DPF regeneration process, running a car on low fuel can cause a whole host of other issues.
What Happens During A DPF Regeneration?
In order for your vehicle to begin a regeneration process, a number of factors need to be met.
A passive regeneration occurs when the vehicle exhaust system has reached a particular temperature after a sustained period of driving at specific speeds. Generally, this occurs when driving on a motorway at speeds of around 50-70mph for more than 30 minutes.
Once the exhaust has reached the specific temperature, the vehicle will begin the regeneration process which consists of the soot inside the filter canister being burnt off to create more space inside the filter.
During a DPF regeneration, you may notice the following
Engine fans running, even when the vehicle is turned off
The engine sounds different
The stop/start system may not work
Increased fuel consumption
A burning smell from the exhaust
The biggest issue with this system is that the majority of people don't drive on the motorway enough to regularly force a DPF regeneration. It's because of this exact reason why vehicles start to encounter problems with their DPF system becoming blocked. DPF replacements and repairs and extremely expensive, almost certainly running into thousands if they need to be replaced.
If you don't often drive on the motorway, or use your diesel car for short town journeys, you're highly likely to encounter DPF problems. Read on to find our recommendations of the Best DPF Cleaner
What Are The Symptoms of A Blocked DPF?
If the DPF filter reaches a certain percentage full level, your car will give you a warning light which will look something similar to the image below (The image will vary between car manufacturer but will generally look very similar)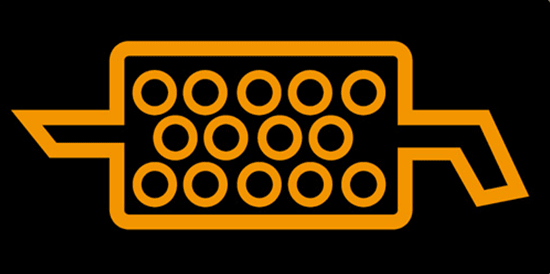 The warning light is there to serve as an alert that the system requires attention. It's really important to take action as soon as the light illuminates, failure to do so can result in an expensive repair bill.
As well as the warning light, you'll also likely notice a decrease in performance from your car. You may experience the following symptoms.
Your car may struggle to overtake and may struggle when climbing up hills. It may get progressively worse as the filter becomes more blocked.
You may notice a rough and different idle to your car engine. It may be jerky and unsteady when stationery, due to the gasses not flowing properly through the DPF filter.
Strange smells coming from the engine area
You may get a strange smell coming from the engine bay or underneath of the car. Common smells are a foul, eggy like smell and you also get a burning smell which can be alarming to say the least!
Increased fuel consumption
Your car will use more fuel if you have a problem with your Diesel Particulate Filter. Cars are tuned to extremely tight tolerances from the factory and are based on the running at optimum performance levels when everything is functioning correctly. A blocked DPF filter can significantly impact engine performance and your car will use more fuel to compensate for it.
Start/Stop system may not work
The automatic start/stop system in your car may temporarily be disabled your vehicles computer systems. (The system which automatically turns your engine off and back on again when stationery at traffic lights etc). The car may disable this feature in an attempt to get the engine and exhaust up to the required temperature to perform a DPF regenaration.
What Causes A DPF To Block Up?
A number of factors can cause a DPF to become blocked up with soot. The main cause of this is short journeys. Because your car exhaust system isn't getting up to required temperature, it can't perform a regeneration. After continued short journeys, the DPF will eventually become blocked and cause problems.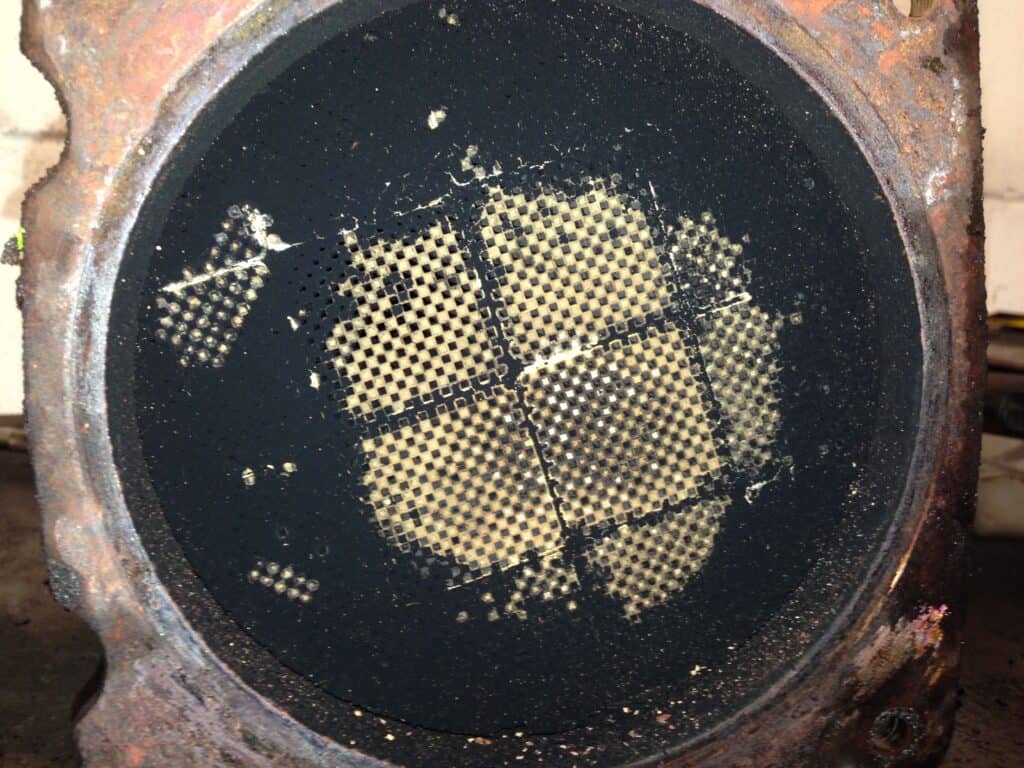 Another contributing factor to DPF problems is poor quality diesel fuel. The more expensive, premium fuels contain additional additives which help reduce the amount of soot build up.
Why Should I Use A DPF Cleaner?
Using a DPF cleaning additive as a preventative measure could potentially save you thousands in repair bills.
A DPF cleaner helps reduce the amount of soot in the exhaust system reducing the combustion temperature of the soot particles. This in turn means that the exhaust system doesn't have to get quite as hot in order to perform a regeneration process, thus removing all of the soot particles from the filter.
Once your DPF is free of the soot build up, exhaust gasses will flow much quicker through the system resulting in increased engine performance and improved fuel economy.
The cost of using a dedicated DPF cleaner regularly is far cheaper than the cost of a DPF repair or replacement, it's a great preventative measure which is now an essential part of maintaining our vehicles. You need to make sure you choose the best DPF Cleaner you can afford to get the best results possible.
How Long Does The DPF Cleaner Take To Work?
Generally, DPF cleaners begin to work pretty much straight away after being application. Research has shown that vehicles can start to show improved performance as little after 10-15 minutes after the DPF cleaner has been applied. Once you've applied the cleaner, you should start to see a noticeable improvement from your car.
How Often Should I Use DPF Cleaner?
This will depend on the types of journey you do. If you drive on a motorway regularly for extended periods of time, you'll need to use DPF cleaner less often than a typical "around town" driver.
If you only ever use your car for short journeys around town and never drive on a motorway, it's recommended to use a DPF cleaner in every second or third tank of fuel, doing so will signifanctly reduce soot built up in the DPF.
You can also use the DPF cleaner in conjuction with cheaper diesel as opposed to using more premium diesel fuels at each fill up.
Should I Use A DPF cleaner If My Warning Light Is Not On?
Yes, absolutely. The principle behind a DPF cleaner is to act as a preventative measure to help prevent major problems manifesting themselves accompanied an expensive repair bill. Using a DPF cleaner will cause no harm and even if your DPF is only very lighly full, the cleaner will improve fuel economy and engine performance.
Can I Have My DPF Removed?
No, you cannot have your DPF removed. It's a legal requirement in the UK and if removed, your car will immediately fail an MOT test.
DPF's have been fitted to comply with European emissions regulations and it is illegal to alter or remove the system.
Additionally, removing a DPF may result in your vehicle insurance being void as it makes the vehicle illegal for road use and in the event of an accident, your insurance company may refuse to pay out.
Our Top Pick Best DPF cleaners
1. Liqui Moly DPF Cleaner
Lowers fuel consumption
Suitable for passenger and commercial vehicles
Reduces soot emissions
2. Cataclean 6160 DPF Cleaner
Reduces vehicle emissions
Cleans catalytic converters as well as DPF systems
Safe for all diesel and hybrid engines
Great price
3. Wynn's DPF Cleaner
Suitable for professional use
Competitive price
En590 compatible
4. Wurth Diesel Particulate Cleaner
Loosens and removes carbon deposits
Supplied in 400ml tin
Great performance
Easy to use
Supplied with flexible tube
Just so you know, we may earn a small commission through the links on this page but we think that's a fair trade off for the hours research and time that we put in.