Mini Cooper car theft in the UK is unfortunately an all too common and frequent occurrence nowadays, but what can you do to help keep your Mini Cooper secure from thieves? We take a look at the best car steering locks to deter thieves from attempting to steal your Mini, explain their uses and benefits as well as highlighting any considerations to make before you purchase yours.
Mini Cooper steering locks are one of the biggest deterants and theft prevention devices that you can invest in. They are tried and tested, extremely tough and make it nigh on impossible for a car thief to steal your car. Whilst they may appear slightly old fashioned, there's simply nothing better to act as a deterrent to car thieves.
There are ofcourse many different steering locks available which come in a range of shapes an sizes, here's our top picks of the best car steering locks to buy.
1. Stoplock HG 150-00 Pro Elite Car Steering Wheel Lock
The Stoplock HG 150-00 Pro Elite Car Steering Wheel Lock is Stoplock's top of the range model and has a range of impressive security features. First of all, it comes with a whopping 10 year guarantee, yes… 10 years. A guarantee for that length of time is almost unheard of this day in age and is testament to Stoplock's trust and faith in their product. It features 10, 000 key combinations and is supplied with two keys. Additional keys can be purchased if neccesary.
Because this is Stoplock's top of the range model, it features a vivid yellow bar which is bright enough to be seen at night which is exactly when your vehicle is at its most vulnerable. This acts as a visual deterrent to any potential thieves and is extremely visible at night time.
It's fully attack tested and is made from extremely solid and hardended metal.
The Stoplock HG 150-00 Pro Elite Car Steering Wheel Lock won the Sold Secure Automotive Gold award in 2018 and it's easy to see why, it's a seriously impressive bit of kit.
The key features of the Stoplock HG 150-00 Pro Elite Car Steering Wheel Lock are;
10 year guarantee
Fully attack tested
Impressive LED system for night time
10,000 key combinations
Supplied with 2 keys – additional keys available
Features a deep bend in the bar to fit larger airbags
Not compatible with Fiat Panda Mk3; Jaguar X-Type; Peugeot 108, 208, 2008, 308, 3008, 5008, Rifter; Subaru XV, Toyota Aygo 2013+ and CHR
2. Tevlaphee Steering Wheel Lock
The Tevlaphee Steering Wheel Lock offers incredible value for money and exceptional security features. Tevlaphee's patented self-locking feature locks with one easy pull and is easy to handle, install and remove.
It features double spring crescent lock sub-type encoding keys which means the key is specially designed to prevent professional thieves. It's also made of high grade hardened steel and premium aluminum/alloy which helps resisting against prying, sawing, hammering etc.
It's extremely well made and very easy to use and offers great value for money. Tevlaphee also offer a complete lifetime money back guarantee should you be in anyway shape or form unhappy with the product.
The key features of the Tevlaphee Steering Wheel Lock are;
Patented self-locking feature
Easy to use
Made of high quality steel
Lifetime back money guarantee
Supplied with 3 keys
Keys cannot be duplicated
Pick proof
3. Stoplock HG 134-59 Original Steering Wheel Lock
The Stoplock HG 134-59 Original Steering Wheel Lock is an extremely capable and secure steering wheel lock which comes with a 5 year guarantee for added peace of mind and quality reassurance. Stoplock produce some exceptional steering locks and the HG134-59 is no different.
It features 10,000 key combinations and is supplied with 2 keys, additional keys are available if needed.
It sports a deep bend in the bar to fit larger airbags and has been designed to specifically resist the use of power tools.
A flashing LED is visible at night time which Stoplock say deters thieves and encourages them to move on to a more vulnerable vehicle on the street or in the car park.
For ease of use and speed, this model snaps shut and locks without the key making it quick and convenient to use.
The key features of the Stoplock HG 134-59 Original Steering Wheel Lock are;
5 year guarantee
10,000 key combinations
Supplied with 2 keys
Impressive LED system for night time
Deep bend in the bar to fit larger airbags
4. Turnart Steering Wheel Lock
The Turnart Steering Wheel Lock is extremely capable lock which features a hammer design. It's extremely versatile and can be installed on the steering wheel in 3 different ways to increase compatability. It also features a foam layer which is a nice touch and aids handling and maneuvering.
It's available in 3 colours and includes 3 keys. The lock and keys are top class B lock technology which features a curved groove on the key, so the key cannot be copied.
The key features of the Turnart Steering Wheel Lock are;
Comes with 3 keys
B+ lock technology
Available in 3 different colours
Automatic clamping
Black foam stickers included to prevent damage and scratching to the steering wheel
5. Monojoy Steering Wheel Lock
The Monojoy Steering Wheel Lock offers great value for money and performance. It features B+ grade cylinders and a pick proof lock mechanism for added peace of mind. It comes with three laser cut keys which consist of snake like grooves to aid security and ease of use. It's extremely quick and easy to use with a 1 second self locking feature. Simply snap it into the lock position and you're done.
The Monojoy steering wheel lock has a solid body for strength and resillience, and a hardened steel for superior cut resistance. It's adjustable too, with an adjustment range of 17.7″-28.7″(44-73cm).
The key features of the Monojoy Steering Wheel Lock are;
Includes 3 keys
Adjustable
B+ Grade lock cylinder
Pick proof lock
Automatic locking 1 second feature
Includes foam stickers to prevent damage and scratching to steering wheel
Escape hammer function
What Are The Benefits Of Using A Steering Lock?
Unfortunately, car theft is on the rise in the UK and is an all too common occurence. Statistically, a car in much less likely to be stolen when using a steering lock. A steering lock not only acts as a deterrent but also makes it extremely difficult for a thief to steal the car if they are able to get inside.
At the bare minimum, a steering lock is going to significantly increase the amount of time it takes a thief to steal your car. During the process of trying to remove and pass the steering lock, they are highly likely to make lots of noise and potentially alert you and other people to their presence. Thieves often attempt to use power tools to overcome steering locks, naturally power tools are extremely loud, particularly in the early hours of the morning.
A steering lock also provides peace of mind as a car owner. We invest lots of money in our cars and often they are our second most expensive life purchase after our home. It can be extemely stressful and disconcerting having to constnatly worry about your pride and joy being stolen, a steering lock can help to significantly reduce that. Have you just bought a expensive new car but are struggling to enjoy it due to the stress and worry of it being stolen? A good quality steering lock can help alleviate that massively resulting in a healthier you.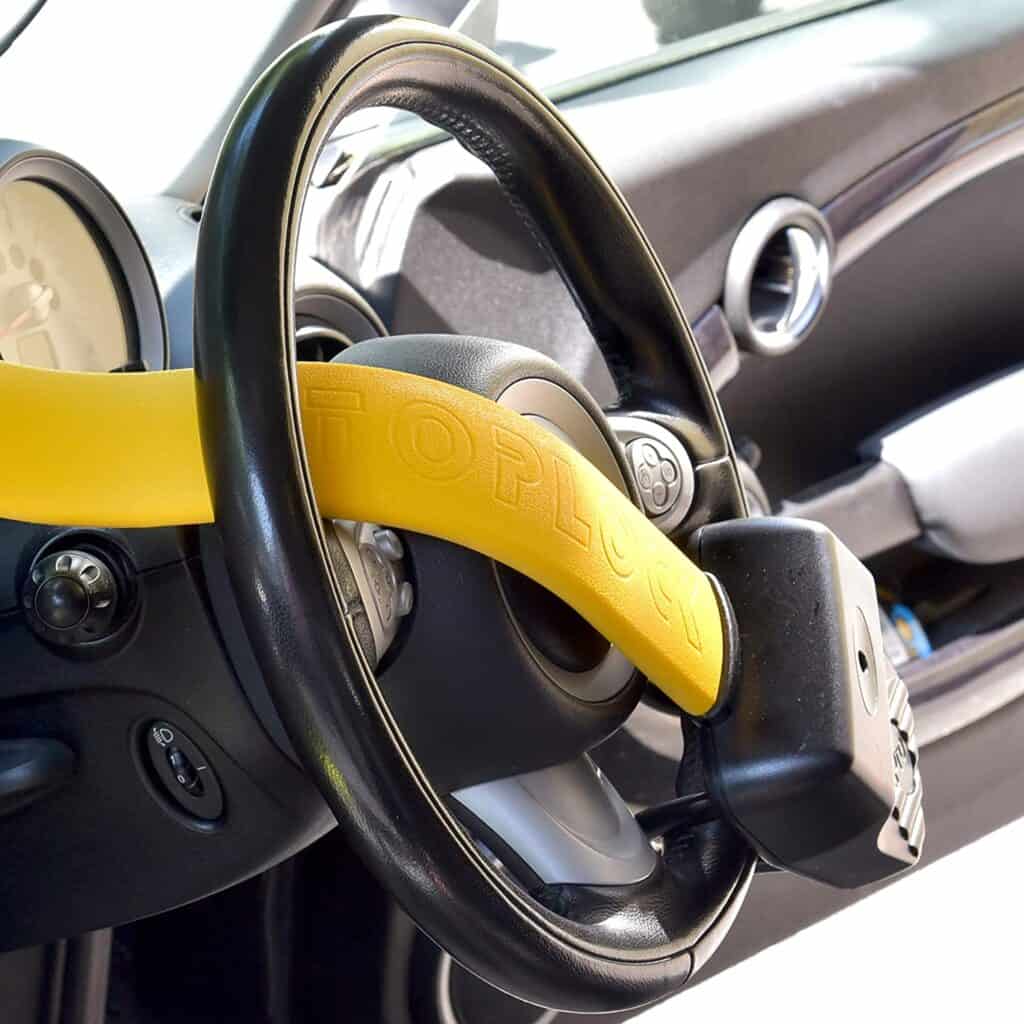 A car steering lock can also save you lots of money. The cost of a steering lock is fairly small but in relation to the cost of replacing your car, it's compltely negligible. Using a steering lock may deter a thief from even attempting to steal your car which will then result in you saving lots of money on expensive repair bills.
Keyless Entry Vehicle Theft
Cars that are equipped with keyless entry systems are a huge contributing factor to the soaring rates of car theft in the UK. A keyless entry vehicle works detecting when the key is in the vicinity of the car (in your pocket or bag for example) and then automatically unlocks the car when you pull on the handle. You can then hop in and press the start button and as long as the key is still in the vicinity, it'll fire the engine up and off you go.
There is however a huge security flaw with this system. Theft devices have been developed which essentially mimick the car key being in the vicinity of the vehicle. They do this locating the car key signal inside your house and boosting it to reach the car with the use of the signal boosting equipment. At this point, your car thinks the key is in the vicinity of the car and opens up for the thieves to jump in and simply press the start button.
This is ofcourse a huge concern for car owners and often a source of sleepless nights. Using a steering lock can add a high level of security to your car making it almost impossible for the thieves to steal the car even if they are able to gain access to it. Whilst they may able to boost the key signal to get inside the vehicle, they won't be able to drive it off without first removing the steering lock. Steering locks are incredibly tough and well constructed meaning that they are nigh on impossible / extremely difficult and time consuming to remove.
What To Consider When Buying A Steering Lock
There are lots of considerations when buying a steering lock, we think the most important are;
Guarantee – Some steering locks come with a manfuacturer guarantee as long as 10 years. An extensive guarantee such as this provides peace of mind that you're buying a product that you can trust and has quality assurance. Always check the guarantee period of the steering lock that you're considering purchasing.
Materials – It's important to consider the types of materials used on a steering lock. For example, some locks are made from solid steel which is extremely difficult to cut through even with the use of power tools. You wouldn't want to purchase a lock that's made solely from rubber for example, that could easily be sawed through very quickly.
It's also important that the steering lock doesn't cause any damage to your steering wheel so make sure it uses soft, forgiving materials where it comes into contact with the steering wheel.
Appearance and Visibility – Appearance and visibility are a key consideration for a steering lock. The sole aim of a steering lock is to prevent thieves from stealing your car but also to deter them from even attempting to gain access to the car. It's important that your steering lock is bold and visible, for this reason lot's of steering wheels are often bright colours such as yellow, green etc. Some steering locks also include LED lights which will flash at night time to deter a thief from attempting to break in.
Ease of Use – It's important that whichever steering lock you purchase is easy to use. All steering locks will feature different designs and locking mechanisms, some will be easier to use than others. For example, a steering lock featuring a snap shut locking mechanism which locks without the key is a really quick and useful feature. Some steering locks require the user to manually lock them with the key once they've been placed in position on the steering wheel. Be sure to consider this when purchasing a steering lock.
Design – Steering locks differ in shape, size, weight and features. Whilst they aren't designed to add any aesthetic value to your car, it's important to consider the design and make sure it's compatible with your particular car. For example, some steering locks feature a disc based system where they complete cover the steering wheel in a disc style formulation. This may work great for one car but may not work for another because of steering wheel shape, airbag size etc. It's also really important to ensure that the steering lock is installed and inserted properly each time, failure to do so could result in it being passed easier.
Steering Lock FAQ's
Q. Do steering locks fit all cars?
Q. Can I get replacement keys if I lose the originals?
A. Yes, you can get replacement keys. You can contact the manufacturer of the steering lock and get them to send you a replacement. It's extremely difficult to get replacement steering lock keys cut a locksmith so always start with the manufacturer first.
Q. Is it possible for a thief to pass a steering lock?
A. It is possible, yes however they'll likely need power tools and it'll take them a hell of a lot longer than it would do without a steering lock. If the attempted theft is taking place at night time which it more than likely is, it's highly possible that the noise will alert yourself or neighbours and deter the thief.
Q. Will a steering lock make my car insurance cheaper?
A. This is completely dependant on your insurer and at their discretion. Some insurance companies will offer discounts or bonuses for using a steering lock on your vehicle.
Just so you know, we may earn a small commission through the links on this page but we think that's a fair trade off for the hours research and time that we put in.